COSTUME LIST

Last updated: 7/7/2012

For large pictures and detailed descriptions, go to the Columbia Props & Details Page by clicking on the links.

Time Warp: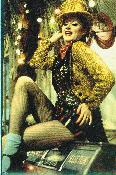 Gold sequined top hat with black scrunched hatband.
(A black hairband makes a good stopgap hatband and really dresses up a plain gold hat.) The hatband is a matte grosgrain (narrow vertical ribs) and NOT sequined. There is a flat bow on the left side of the hat (look during throne scene). Hat is lined in black. The sequins run in parallel wavy lines, vertical on the "stovepipe" part of the hat, and running front to back on the top and brim. The brim curves upward on the sides and flares ever so slightly at the top (like a leprechaun hat). Both the top and underside of the brim are sequined. Costume shops may have real sequined top hats or cheap glitter ones you can convert (also check party supply stores). If all else fails, buy a tophat at a formalwear shop and sequin it.
Short red wig.
Part on the left. Nell touched hers up with Crazy Color. You may have to buy a longer wig and trim it. Note that the hair is cut very close at the back of the head, with the hair from the top of the head cut in a blunt cut at the level of about two-thirds of the way down Nell's ears. Practically speaking, if you're wearing a wig, you'll have to keep it longer in back. But make sure the front isn't too long.
Gold sequined tailcoat and black sequined, un-notched (shawl) lapels.
The tailcoat is short in front with swallowtail tails in back. The transition from the front of the jacket to the tails is abrupt, not gradual. Lined in black; no cuffs. The sequins run in wavy parallel lines and have a yellow tone. The sequins on the sleeves flow down vertically from the sleeves (so when her arms are down, the lines are straight up and down). On the front, the sequins flow in downward diagonal lines at about a 30 degree angle down from the horizontal. The undersides of the lapels are fully covered with the sequined material.

Cover a jacket with sequined material, or make one (look for Uncle Sam costume patterns around Halloween or the Fourth of July). If your jacket has no tails, sew black tails to the jacket and cover with sequined fabric. (Elaine Truver includes a little sketch of how to do this here.) There are two black buttons placed horizontally above the tails, and two black plastic buttons placed vertically below the lapels on each side.

Pink sequined double bow-tie on a black scrunched elastic strap.
Bowtie is sequined only on the front, not the back. (Base material is pink.) The band looks sequined, though it's hard to tell.
When Brad and Janet are being undressed, Columbia wears a:
Black dog collar with white iridescent rhinestones.
5 rhinestones on each side; small gold ring in the center. Black leather; buckles in back with a gold buckle.
Remove jacket, tie and hat after Frank exits ballroom to lab. Wear dog collar under bow-tie for quick change.
Blue ring.
Worn on left hand ring finger throughout the entire film. Flat dark blue band (enamel?), flanked on each side with silver edging. This could easily be made with blue nailpolish on a plain silver band (idea from Sera Lysea).
Sequined bustier.
For photos of one of the bustiers from the film, look here. Sequins are red, green, silver, blue, and gold, and are attached to a black bustier with white lining. (Multisequined fabric used to be sold by the yard; it is very difficult to find nowadays. If you find it commercially, buy it immediately. Or get some of Larry's custom-made material.) Sequins are flat, not the cup style. The top comes to a point above each breast, and the waist dips to a point in the middle. Fastens in the back with hooks and eyes, though a zipper is more practical for quick changes. Please do not sequin the cups separately from the rest of the bustier. It won't look right. Don't glue the sequins on, either, unless you want them on only temporarily.
Black satin shorts with metallic ribbon stripes.
Columbia does NOT wear a white belt in the belt loops of her shorts. The white is the inside of her bustier, which turns up during Time Warp. This is visible in several pictures and the 1995 trading card, and was confirmed by Nell at the 1998 NYC con. The white lining with black strips of boning can be seen on the laundry line when Dr. Scott comes through her bedroom.

I've had several Columbias tell me that the best way to find metallic ribbon is to go to the fabric stores' after-Christmas sales. See the links page for ideas. If you just use strips of lamé, for heaven's sake, hem them or they will ravel.

Black satin underwear. (for Floor Show)
Seamed fishnet pantyhose.
The crotch seams show beneath her shorts (not a rip). (This is easiest to see when she's rolling around on the floor with Eddie.) Some people recommend buying dancer's fishnets; they include Lycra, which makes them more expensive but less prone to rip or bag.
Light ribbed blue socks (worn cuffed), black tap shoes with cup sequins, rounded side out (so they're convex, not concave).
I thought these were rhinestones for years, but after looking at the Mick Rock book, I think they're sequins. bttrpr on the rhpscostumes Livejournal list asked if they were sequins or rhinestones; thank you for asking. Check out images of her left and right shoe. Instep strap (buttons, though a buckle will look close; not a ribbon tie), "Mary Jane" style, ~1.5" heel. Tap shoe manufacturers sometimes refer to these as "character shoes," particularly when they're sold without the taps. See the links page for sources of tap shoes. Shoes are spangled with blue and possibly silver/white sequins. (The sequins are not that big--don't use oversized ones.) Try gluing on with washable fabric glue, which will flex instead of crack. Topcoat shoes with shellac or something to discourage shedding. Socks are light blue during the Time Warp and darker after she steps out of the elevator. Some Columbias prefer to buy their shoes without taps as they're about half the price and much less noisy. Some don't.
Creation Scene:
Cotton lab apron, rubber(?) pink mask, and big scissors. (see Magenta)
White cylindrical glass jar with gold rim.
Toucha Toucha:
Remove shorts, bustier, shoes, socks, fishnets and collar. You can put on Floor Show corset, garterbelt and stockings underneath your PJ's to save time. Columbia has wiped off her eyebrows, eyeshadow, rouge and beauty mark. She still wears lipstick.
Light flannel men's white/blue striped pajamas.
Vertical light blue, dark blue and white stripes. The pants have a white drawstring waist; the pant legs are a little short and the sleeves are too long. The shirt buttons down the front (white plastic buttons). The left shoulder is ripped, and there are a couple of rips on the right side, including a rip where her right nipple peeks through when she gets up at dinner and when she pulls the shirt down at Frank in the lab. There is a vertical rip at Columbia's right hip. Columbia wears the pajama top mostly unbuttoned with no bra.
Black plastic Mickey Mouse ears on black felt cap (no embroidered name; no Disney logo--peel it off).
Falls off when Magenta blow dries Columbia the first time.
Bottle of red nail polish.
Circular-shaped bottle with white cap.
Open-toed black high-heeled mules.
Slight platform. Mules are lounging slippers which don't cover the heel. They don't have marabou trim like classic lounging slippers (check her feet during "Ring around the lesbians" and as she comes down the ramp for her "I loved you" speech). Columbia kicks them off when she jumps on Magenta.
Magazine. You won't need this unless your cast does the "ring around the lesbians" bit where Dr. Scott circles Magenta and Columbia. Columbia is reading Movie Life. Time to hit eBay...or ask Mina Credeur (Columbia's Closet) for a reproduction.
Dinner:
Button your pajama top most of the way up. Put mouse ears and mules back on. Wear mouse ears through "Eddie's Teddy" solo.
After Planet Schmanet:
Remove mouse ears.
Floorshow:
Red and black and yellow netting boa (mostly red and black).
Photos of an original boa, supposedly Columbia's, are here.
I don't know what the fabric is; Sue Blane notes it was "cheap, synthetic fabric, overlocked on the edges." Sparkle tulle works well and it's cheap. Jaimie Froemming recommends organza, and Gene Chiovari favors organdy. The material is shiny and stiff, with sharp pleats. Edged with black overcast stitch; Jen Hoffman and Jaimie Froemming recommend "woolly nylon serger thread," which looks great, though after examining an original floor show boa, I'm sure that it's not what Sue used. There is a black tassel or two on each end and the ends have obviously been weighted.

Drop boa as you "wake up" before the pool scene--make sure it is out of the way for kick line.
Sequined black front-lace corset.
Note: Columbia's corset ties at the top, although everyone else's ties at the bottom.
The unsequined corset Nell was photographed in with her hand behind her head (13 eyelets) is the corset that was used for the Floor Show (for the record, the underwear isn't), and the September 2005 photo in the Mick Rock calendar clearly shows 13 eyelets. Unlike Janet, Columbia has more sequins along the top of her corset than along the bottom, at least in front. For photos of Columbia's corset, look here (right side)--warning, her torso is twisted, and here (bottom right side, good view of left side).
Fingerless over-the-elbow seamed fishnet sleeve (left arm).
Red sequined over-the-elbow gauntlet edged around the top with faded red/pink feather trim (right arm).
The gauntlet covers the top of the hand, coming to a point which is hooked over the middle finger with a white thread loop. Use elastic to keep it from sliding down your arm. Cut up a cheap boa for the feathers. (Please don't use marabou.) Some band supply stores actually sell sequined gauntlets.
Black satin undies, seamed fishnet stockings, black satin garter belt with crinkly metallic red straps (3 per side) and black findings
The fishnets also have just a few sequins on them. (Some people say rhinestones; they look flat to me--check Dr. Scott's when Riff threatens him at the end of the film.)
Black patent high heeled pumps.
They wore 5" heels (at least Barry said so). 2 1/2" look good, are less dangerous and cheaper.