COSTUME LIST

Last updated: 1/14/17

For large pictures and detailed descriptions, go to the Brad Props & Details Page by clicking on the links.

Proposal:
Dark brown tortoiseshell glasses.
Lenses are very slightly rounded rectangles. Buy a pair of sunglasses and pop the lenses out.
1-button black tux jacket with burgundy lining.
Un-notched satin (shawl) lapel; no vents. 3-button cuffs. Inner pocket on left side (store ringbox here); 2 outside straight pockets. At one point something cream-colored sticks out of a pocket. On close examination, it doesn't look like lining to me (it's definitely folded). Jacket button is plastic (2-hole). Terminally anal-retentive? Look closely as Brad gestures towards Janet in front of the billboard; on a good print, the edge of the smaller reinforcing button (opposite the plastic 2-hole button) on the inside of his coat can be seen.
Red plaid cummerbund and bowtie.
The cummerbund is a red and black plaid (straight up and down, not diagonal -- photo here); the bowtie is a double bowtie (2 layers), red with yellow, black and blue diagonal lines. Photos are here; thanks to Bernie Bregman for the grabs.
White carnation boutonniere with 3-4 fern fronds (it changes, or they overlap - I count 4 in several closeups). After looking, I decided that asparagus fern looks the closest.
White hankie in left breast pocket.
Folded with point sticking up.
White dress shirt.
Vertical flap conceals the buttons. Shirt has a pattern in shinier thread of alternating shiny and plain stripes edged with vertical rows of diamonds. See the bowtie photos for a picture of the shirt; the details are a bit flattened on the DVD and are much easier to see on a giant movie screen.
Gold circular cufflinks with some sort of carved/incised design. Grab (courtesy of Bernie Bregman) here.
Watch.
Analog, black band, white circular face in gold case, left wrist.
Gold class ring with faceted red stone (right hand ring finger)
White sleeveless undershirt (not ribbed), white men's inverted Y-front Jockey briefs.
(Barry said in an interview he wore Fruit of the Looms, but they read "Jockey" in gray on the waistband; check before he's handed his lab jacket. Jockey packaging claims the "inverted Y-front" is an exclusive Jockey feature. Look for Jockey Classic.)
Black formal pants, slightly too short, with black satin stripe down the side.
Side-seam pockets. You could sew a satin ribbon down the side of plain black pants.
Shiny black dress shoes. Loafers. I can't see laces, and when he flexes the shoes to kneel you can see flexing gussets, most clearly on the Blu-Ray.
White socks
Gold/diamond engagement ring (if Janet doesn't supply), octagonal black ringbox (square box with lopped-off corners, not an equilateral octagon).
Box has red velvet/sponge(?) lining and white satin inner lid. Texture is a muted matte leather pattern. Kept in jacket's left inner pocket.
White chalk. Kept in right outside pocket.
Car/Rain Scene:
Tan jacket with maroon/gold Denton patch. Look for "car coat" or "golf jacket" (thanks to Ron Maxwell and Wally Barsell for the search tips). Try to avoid elasticized wrists; you want button or snap. I'm trying to figure out which.
Jacket features a Western-style yoke in front, and an elasticized portion in the waistband over each hip.
Brad wears his jacket half-zipped in the car, zips it in the rain, then unzips it halfway immediately when he enters the castle. Cuffs are unbuttoned or unsnapped, at least once Brad exits the car. Barry was a big boy...
Dark blue V-neck sleeveless sweater-vest with ribbed neckline.
Light blue striped shirt.
Shirt appears to be alternating lines of matte light blue and shiny light blue. The Blu-Ray never shows any color contrast but the stripes are distinct. Top button undone. Light blue plastic buttons. Cuffs are already unbuttoned when Magenta undresses Brad.
White sleeveless undershirt ("wifebeater" style). Not ribbed.
Black belt with open gold buckle (shaped like a sideways "U").
An inch or so to the left of the buckle is a gold metal belt loop for the end of the belt to go under. The buckle is worn on the left, the end of the belt on the right.
Light gray pants with permanent press front crease.
Pants close at the waist with a buttoned flap, which extends an inch or two beyond the crotch. The flap's closing button is a large plastic one. There is an additional concealed button above the zipper. (Best place to see all this? The outtakes on the laser disc.)
Be kind and tell Magenta how your pants fasten!
Brown loafers. High tongue; no tassels; no buckles.
A blue steering wheel looks cool.
Buy at a junkyard.
White handkerchief to wipe windshield.
Keep in tan jacket so you don't have to transfer your wedding handkerchief.
New Magentas may need you to unbutton some shirt buttons, and almost none can undo your belt in time unless you unbuckle it. Ask-- helping an experienced Magenta undress you will throw off her timing. Grab your shoes after you're undressed and put them on again in the elevator.
Creation Scene:
Knee-length white lab coat.
One pocket on left breast, 1 front pocket on each side. Notched lapels. There is also a slit in the side seam on each side, which allows access to underneath. White plastic 4-hole buttons.
Take off your glasses for "Superasshole!" and put them back on right before Frank starts his "Unconventional conventionists" speech.
Bedroom Scene:
Take off your shoes. Leave on your socks.
Light blue satin kimono bathrobe.
Reaches to the top of Brad's socks. Wide sleeves just past Brad's elbow and open armpits. Worn right side over left; sash tied in a bow. The front opening is flanked with white embroidered daisies (white centers), with butterflies (white with blue and yellow accents) below, and butterflies on the back.

Robe is thrown at Brad before the bedroom scene. He does not wear it to bed, but he does wear his glasses, socks and watch.
Pre-Dinner Scene:
Put on your blue bathrobe. Take off glasses before entrance in elevator. Put them back on when Dr. Scott appears on monitor. Before dinner is a good time to put on your corset, garter belt and fishnets. Put your socks back on over your nets.
Dinner:
Pull your glasses off as you jump up in outrage when Frank chases Janet out of the dining room. Brad leaves them on the table; stash them in your robe.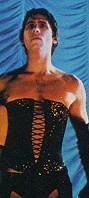 Floor Show:
Take off your watch and class ring.
Red, black and yellow netting boa (mostly red and black).
Photos of an original boa, supposedly Columbia's, are here.
I don't know what the fabric is; Sue Blane notes it was "cheap, synthetic fabric, overlocked on the edges." Sparkle tulle works well and it's cheap. Jaimie Froemming recommends organza, and Gene Chiovari favors organdy. The material is shiny and stiff, with sharp pleats. Edged with black overcast stitch; Jen Hoffman and Jaimie Froemming recommend "woolly nylon serger thread," which looks great, though after examining an original floor show boa, I'm sure that it's not what Sue used. There is a black tassel or two on each end and the ends have obviously been weighted.

Drop boa as you "wake up" before the pool scene--make sure it is out of the way for kick line.
Sequined black front-lace corset
16 or 17 eyelets per side.
For DVD grabs of Brad's corset, click here.
Fingerless over-the-elbow seamed fishnet sleeve (left arm).
Red sequined over-the-elbow gauntlet edged around the top with faded red/pink feather trim (right arm)
The gauntlet covers the top of the hand, coming to a point which is hooked over the middle finger with a white thread loop. Use elastic to keep it from sliding down your arm. Cut up a cheap boa for the feathers. (Please don't use marabou.) Some band supply stores actually sell sequined gauntlets.
Black satin undies, seamed fishnet stockings, black satin garter belt with crinkly metallic red straps (3 per side) and black findings
The fishnets also have just a few sequins on them. (Some people say rhinestones; they look flat to me--check Dr. Scott's when Riff threatens him at the end of the film.)
Wear black underwear under your briefs and try putting on your corset, fishnets and garterbelt before dinner to save time.
Black patent high heeled pumps.
They wore 5" heels (at least Barry said so). 2 1/2" look good, are less dangerous and cheaper.